Why JetPage? Learn if we're the best website builder for you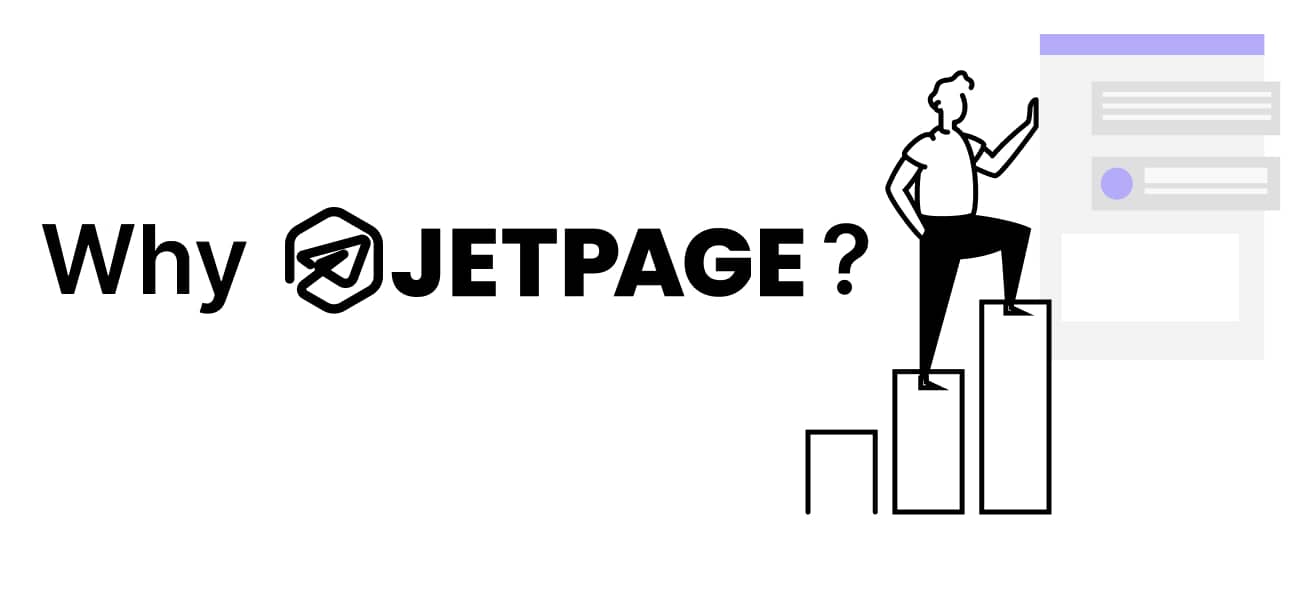 JetPage was born out of frustration with the current website builders available and their lack of focus specifically for non-technical entrepreneurs/small business owners in mind, with the main one being WordPress.
Prior to starting JetPage, our founding team had actually taught WordPress and helped over 7,000+ people and entrepreneurs start their first WordPress website or blog.
So it's important to note that we were NOT inherently biased against WordPress, in fact, we were very, very much in support of the open-source platform.
But as time went on, we noticed a TON of recurring complaints and pains in the WordPress learning curve.
At first, we ignored this, but then we started running into our own problems with how much time and money we were wasting on simply maintaining and optimizing our own WordPress websites, just to keep them online.
After doing a bunch of repetitive tasks to set up, optimize, and maintain each WordPress site, we started to imagine a platform that was much more lightweight and purpose-built with business owners in mind.
If you're reading this as a solopreneur or small business owner, you're already wearing so many hats throughout the day that you don't need to be adding web designer, web developer, and SEO specialist to that list.
Enter JetPage, a platform designed specifically for the entrepreneur or small business owner who doesn't have the resources or technical know-how, but can still get a world-class website in seconds that is extremely simple to use and is worry-free with zero maintenance.
Now let us dive deeper into who JetPage is made specifically for.
Who is the JetPage website platform made for?
JetPage is designed for entrepreneurs and business owners that are primarily focused on SEO, blogging, and affiliate marketing.
Ideally, you are someone who is more focused on results and efficiency than wasting time setting up, maintaining, or making your website an artistic expression.
Essentially, you want to just focus on your business and creating content than getting into the technical weeds.
Google's very own John Mueller states that it is "hard to call a site authoritative after 30 articles", further emphasizing the point that you NEED to be focusing on creating as much content as possible, rather than wasting time with other activities.
There are too many website builders that emphasize web design and art, not functionality or results. If you don't care about results, then we're probably not the right fit for you.
We put a HUGE focus on simplicity and speed, so if you're not tech-savvy and non-technical, you can still get a world-class website launched in seconds with zero fuss.
JetPage was made, in part, to scratch our own itch. As entrepreneurs, we've come up with so many business ideas and usually start by purchasing an available domain on GoDaddy or Namecheap. Usually, that's where the story starts and ends, as setting up the WordPress site requires so much more effort than purchasing a domain.
It's discouraging enough to quit the idea altogether.
Now with JetPage, if you come up with a new exciting idea about a niche you're passionate about, you can spin up a JetPage site in seconds and connect any custom domain and make that dream a reality so much faster than before.
For SEO
One of the foundations of JetPage is an obsessive focus on results, and that starts with organic SEO traffic from ranking high on Google search.
Now a lot of website builders claim they have "SEO features" and are "SEO-optimized", but this is a lie.
What they really mean is, they allow you to add a Meta Title and Meta Description, and that's where their "awesome SEO features" ends.
To actually get SEO results, you need much more and it begins with technical SEO and your site's performance (load times, Google Core Web Vitals, HTTPS, mobile-responsive, advanced image compression/conversion etc).
After the technical SEO "foundation" is set, we have optimized your HTML and automated things like a dynamic Sitemap you can submit to Google Search Console to get indexed faster and more accurately.
In addition, we are working on new features that will automate and optimize even more of the SEO process as we learn from our most successful customer's sites and try to apply those learnings to ALL of our customers' sites.
For example we recently added an advanced image compression feature, that reduces file sizes by 95% and helped increase a customers Google rankings. You can read more about our latest features here!
Also, according to successful bloggers earning over $50,000 annually, the real results will come from your content and headlines, but NOT having an optimized website will cost you.
Think of a leaky bucket, it's more efficient to patch all the holes before you start pouring water (aka website traffic) in, or else you're simply leaving money and results on the table.
And with so many millions of websites competing, you need to find an edge to stand out from the competition. There's a big difference between being on Page 1 vs Page 2, and being #1 vs #2 overall. With JetPage, your website is instantly outperforming MILLIONS of slow, outdated WordPress websites out of the box.
Even if you are technical, you may still appreciate the JetPage platform's focus on efficiency when it comes to getting work done and blazing-fast load times through use of the latest technology like CDNs and cloud hosting.
We don't do cheap shared hosting, and the cloud hosting we use has been specifically proven to rank higher on Google.
Lastly, our team is staying up to date on all the latest SEO changes and algorithm updates so we can work to improve the JetPage platform for ALL our customers and stay optimized, which is a continuous job, not something you can just "set and forget".
If you want to read even more in-depth on why JetPage is the best website builder platform for SEO, you can read more here.
For Affiliate Marketers
Prior to founding JetPage, our founding team had generated over 7-figures in affiliate marketing commissions selling WordPress-related products like web hosting, themes, and plugins.
So you can confidently say that JetPage was made by affiliate marketers, for affiliate marketers (primarily).
As an affiliate marketer, you are an entrepreneur that is already wearing so many hats, you don't have time to waste on setting up, optimizing, and maintaining your website.
Affiliate marketers are more focused on the quality of traffic and collecting leads hoping to convert those leads into paid customers to get commissions.
Bloggers, on the other hand, may be focused more on getting a high amount of monthly visitors and monetizing via Ad revenue from Google Adsense, Ezoic, or Mediavine.
(With JetPage, you can combine both business models and easily do affiliate marketing alongside Ad revenue.)
At the end of the day, affiliate marketers should spend their energy on creating targeted content consistently, ranking with SEO, collecting email subscribers, having a strong email auto-responder sequence, and ultimately getting sales.
We built JetPage with affiliate marketing-specific tasks in mind, so we have already built in technical SEO, the ability to collect email leads out-of-the-box, and email integrations with popular email marketing software like ActiveCampaign.
In the near future, we're also planning to add even more exciting features for affiliate marketers like easy affiliate link management with pretty links, and also popular content templates for affiliate content like product reviews and comparisons.
If you want to read even more in-depth on why JetPage is the best website builder platform for affiliate marketing, you can read more here.
For Bloggers
We find it ironic that WordPress was originally made for blogging, but setting up a professional blog with the right theme and plugins so you can just focus on writing is arguably more difficult now than it was before.
As outsiders, our perspective is that WordPress' open-source nature has made the platform quite bloated with thousands of themes and plugins that it has created an overwhelming "information overload" or "analysis paralysis" in a lot of its users.
We share a simple philosophy: If you try to please everyone, you end up pleasing no one.
The parallel here with WordPress is that it's a platform you can technically do almost anything with, but it no longers excels at just one specific business use case. Instead, you are band-aiding a bunch of different solutions together that may not be very compatible.
For us, since our core product is focused on blogging, you can expect that we're going to serve the needs of our blogging customers right out of the box.
And although we don't have thousands of plugins, the best WordPress sites only really use a handful of plugins which we aim to have replacements for eventually.
The difference is that our plugin replacements are native features that all talk with each other and don't share the same security vulnerabilities like with outdated WordPress plugins.
We've heard countless stories of customer sites crashing or getting hacked from a single outdated WordPress plugin. Not a surprise
For bloggers, you should be focusing on keyword research, consistently publishing high-quality content, distributing that content, ranking on SEO, getting email subscribers, and monetizing with ad revenue, affiliate marketing, and sponsorships.
We've built the JetPage platform with all of this in mind, and have worked hard so that our customers can focus on simply writing and publishing great content, which is a full-time job already.
No need to add SEO specialist, web developer, web designer, and server admin to an already-busy schedule.
That's where JetPage comes in, we handle all the boring but necessary tasks so you can (hopefully) reach a state of zen where you're just writing, publishing, and getting results.
We as bloggers ourselves, know that all it takes is one technical issue to completely ruin your creative juices.
If you want to read even more in-depth on why JetPage is the best website builder platform for blogging, you can read more here.
Who JetPage is NOT for?
If you are a professional web developer or web designer, then we are probably not the best solution for you.
Just to reiterate, the JetPage platform is primarily focused on results rather than wasting time on technical tasks like setup, design, and maintenance.
So if you desire a lot of customization and being able to edit every little pixel, then we won't be a good fit.
We have purposely limited the platform to maintain a high standard of performance and accessibility and allowing too much customization will negatively affect these things, which is the #1 mistake we see people make with their websites.
If you are technical and already actively try to use minimal plugins, a lightweight theme, configuring performance and caching plugins, and using high-quality managed hosting and CDNs, then you probably won't see as much benefit as our other customers.
However, if you have done all of the above and still not experiencing sub 1-second load times, are still not passing Google Core Web Vitals, or just plain tired of having to perform weekly site maintenance, then you should still give JetPage a try. There's nothing to lose, and we offer a free trial with no credit card required.
JetPage vs WordPress
As we mention in the intro, JetPage was made specifically to correct all the pains, problems, headaches, and frustrations that WordPress gives to non-technical people, entrepreneurs, and business owners.
It's surprising how much you can learn from helping 7,000+ unique people and businesses create their first WordPress website.
Countless times we've heard from people that WordPress had "too much of a learning curve" and that people got tired of watching YouTube tutorials all day so they "got discouraged and quit".
As time went on, we reluctantly started to see their point and really got fed up when trying to optimize our own WordPress sites to pass Google Core Web Vitals and get fully-loaded times under 1 second flat on GTmetrix.
Not to mention, spending every day updating outdated plugins, themes, and WordPress core across all of our WordPress sites and ensuring everything was compatible.
At the end of the day, WordPress will continue to be a huge platform, catering to the needs of limitless use cases with the myriad of thousands upon thousands of plugins and themes.
But for our business use case, we didn't want or need thousands of choices.
What's also ironic is that every WordPress expert will tell you to use as few plugins as possible, in order to avoid having a slow, bloated website. So then, what's the point of having thousands of plugins if ideally, you should only be using a few?
(Have you ever used WordPress without any plugins or themes? It's not very useful.)
We wanted something that simply works out of the box, with not just any theme, but THE theme that is already proven to have high performance, no bloated code, accessible and easy to read, and proven to convert visitors to email subscribers and sales.
The key difference between JetPage and WordPress is that you will no longer be spending time on web development, web design, technical SEO, and site maintenance with JetPage.
We truly want our customers to be focused exclusively on revenue-generating activities like creating and distributing great content, getting email subscribers, conversions, and sales. You can find a complete breakdown of the pros and cons of both JetPage and WordPress HERE!
Community
You hear the phrase "like-minded people" thrown around all the time these days, but the JetPage community is one that can actually back it up.
What sets JetPage apart as both a website platform and a community is that we truly go the extra mile to help boost our customers' chances of success.
For example, if one of our customer websites is getting amazing results, we try to implement and "bake in" to the JetPage platform things they are doing manually so that they become automatic for ALL of our customers.
We frequently reach out to and have conversations with these successful customers to reverse-engineer what they're doing well and what could be improved.
Another example is, we noticed that one customer who was getting great SEO results was spending about 5 hours per blog post.
About 1 hour was dedicated to simply resizing, cropping, and compressing images in their blog post so they looked perfect and also loaded much faster than the full file.
So we set out to automate and make this process easier with the JetPage platform, thus saving about 1 hour per blog post and helping this customer (and all our future customers) save time and be more efficient.
If what they're doing is something that can't (or shouldn't) be automated, then we try to share this info with our customers through our community like on our Facebook Group and via email to all our paid customers.
When you decide to join the JetPage website platform, you're not just getting a powerful piece of software, you're getting access to the community and the collective knowledge that pushes the platform to get better every single day.
Support
Excellent customer support is something that the JetPage team has prided ourselves on since Day 1.
Here at JetPage, we didn't just want to provide run-of-the-mill customer support via email that gets back to you within 48-72 hours.
Instead, we implemented live chat support so our customers could message us anytime, and we worked hard to really create a "customer success" team, as opposed to just "customer support".
The difference is that we try to equip our customer success team with the knowledge that empowers our customers to get results, rather than just act as glorified tech support.
The reason we can have this freedom is because we aimed to solve almost all tech support at the product level.
To put it into simpler terms, we tried to make the product so simple that you wouldn't need to call on tech support just to get it to work.
This has freed up our customer success team to focus more on empowering and helping our customers achieve more, and combined with the JetPage community where our best customers freely share tips that have helped them grow, and our product team implementing and automating those tips when appropriate, you're left with a truly powerful flywheel.
With other complicated, hard-to-use website builders, we've witnessed first-hand that the majority of their customer support is nothing more than tech support troubleshooting bugs and glitches.
Our goal will always be to solve these things from the product level, so you should never need to use support frequently for small technical issues.
The best software these days should be self-explanatory and really easy to use.
Conclusion
If JetPage sounds like the right choice to build your next website with, you can sign up for a free 14-day trial here (no credit card required)!
We are constantly working on the JetPage platform and are always open to feedback and feature requests.
Please feel free to reach out to us via our Facebook Group, Twitter, or the Live Chat support :)
---
Related Posts

Why JetPage is the Best Website Builder for SEO
Why JetPage is the Best Website Builder for Affiliate Marketing