JetPage vs WordPress: Best Website Builder for SEO, blogging, and affiliate marketing?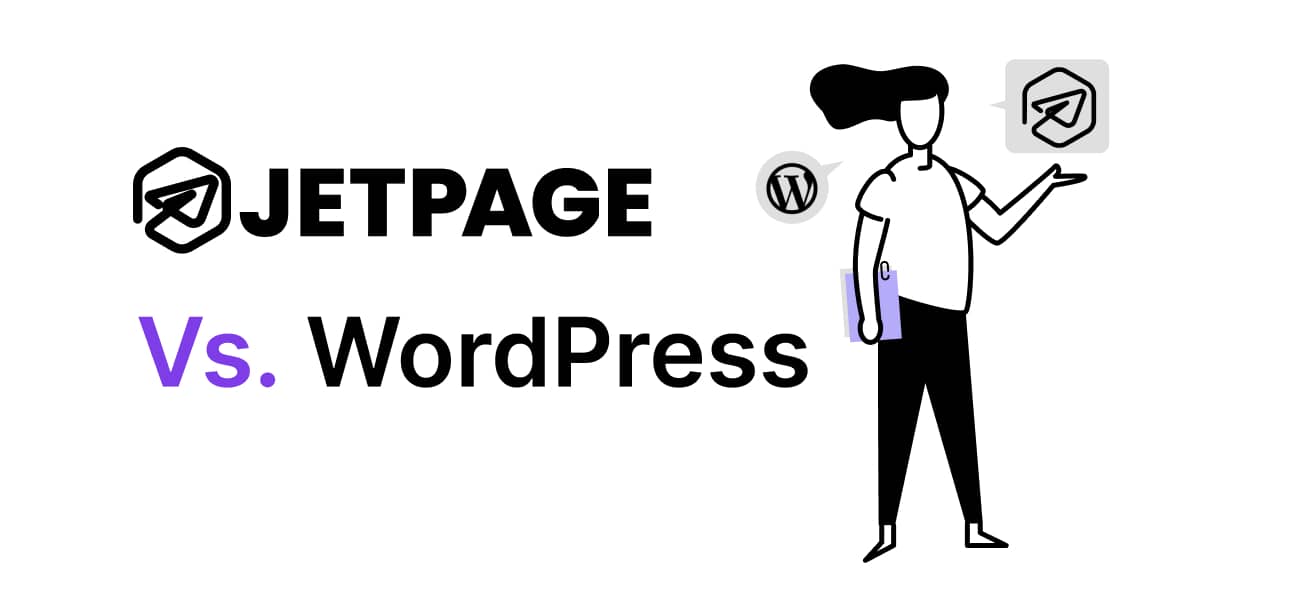 In this article, we are doing an in-depth comparison of JetPage vs WordPress to help you pick the best website builder for you. In 2022, it's never been more important to have your own website. Whether as a personal blog or as a full-time business. Unfortunately, while so much technology has gotten simpler. Building a website often ends up being incredibly frustrating, but it doesn't need to be!
Why You Need Your Own Website
With the rise of social media, many people mistakenly believe they no longer need a website, when you can just build a Google Business, Facebook, or Instagram Page. The problem is that this forces you to rely on social media algorithms that can easily change. Having a website allows you to have a central place to point people to on all social media channels. It also allows you to own your own audience in terms of an email list.
Google is getting rid of third-party tracking cookies, meaning you will have less access to data from other sites that Facebook and Google use to provide. Businesses that have first-party cookies, that is data on visitors to their websites will have a huge advantage. With tracking getting more challenging, your own email list becomes even more vital. Your fans can easily miss your new Instagram post or youtube video. They are less likely to miss an email sent to them.
The rising costs of digital advertising means that simply running a few Facebook or Search ads are no longer an easy way to get a return on investment. People are also now willing to pay to avoid ads and often tune out the ones they do see. Now more than ever businesses are focusing on content marketing. That is creating blogs or videos that can rank on Google or Youtube. Getting your post to rank on these search engines requires Search Engine Optimization(SEO). SEO is one of the best ways to drive traffic to your website. It doesn't require the budget that traditional advertising does. It also allows you to avoid annoying customers with ads, and instead provide them with useful and valuable content that builds goodwill.
WordPress vs JetPage: Which website builder is right for you?
What is WordPress and the story behind it?
The most popular website builder (or more formally, "content management system" or CMS) used by over 40% of websites is WordPress. WordPress allows you to build a fully customizable website with little to no code. It's open-source and has tens of thousands of plugins, and has been around since 2003, making it 18 years old. JetPage is a brand new no-code platform that provides an SEO-optimized, high-performance website with modern design in seconds.
Pros and Cons of WordPress
Pros:
The endless customization and plugins of WordPress mean you can build any type of website you want including e-commerce.

You can execute any creative design you can think of

Incredibly cheap (to start)
Cons:
Confusing to use, unless you have a lot of previous WordPress experience (this is why there are so many hour-long "WordPress Tutorials" on Youtube.

Slow load times and bad performance stats, unless you're prepared to invest a lot of time and money in optimizing.

Unless you are a web designer you will spend months trying to get your website to look modern and professional.

Complicated website design means lower performance and slower load times.

Because WordPress can be used to build any type of site, it's not particularly excellent at creating any specific type of site.

Open source means having to constantly update plug-ins and WordPress and things break easily.

Basic security features like an SSL require several steps to correctly implement,
Who is WordPress for?
WordPress has the ability to fit almost any use case you throw at it, but it comes at a price.
In my experience, having taught thousands of beginners who have never created a website before, WordPress' learning curve can be a bit too technical for the average person.
Also, WordPress' performance and security is just average or below average out of the box. This is why beginners have to learn how to use and configure caching/performance plugins, upgrade web hosting, add a CDN, and more.
With that said, if you can spend weeks or months to learn the platform and how to set everything up correctly, it can be very powerful and get the job done.
Think about it, a platform that powers over 40% of the web has to be extremely flexible, which means it's hard to excel for any single specific use case.
This is the main difference between WordPress and JetPage, which is built solely for blogging, content marketing, and SEO.
What is JetPage?
JetPage is a brand new website platform just launched in 2021 that aims to be much simpler and faster than WordPress, with the exception that it is purpose-built for SEO, blogging, content marketing, and affiliate marketing. (At least for now…)
With the experience of teaching WordPress to thousands of beginners, JetPage's founding team aims to fix the biggest pain points with WordPress including:
Simplicity: There is close to zero learning curve when it comes to building and running a JetPage website.

Performance: JetPage is all-in-one including the best web hosting available, through Amazon Web Services (AWS). In one experiment, AWS websites proved to rank higher on Google than shared hosting websites.

SEO: JetPage websites have been optimized to score near-perfect scores on Google core web vitals, Google lighthouse, and GTmetrix for load times. In addition, each JetPage site includes
Pros and Cons of JetPage
Pros:
You get a website that's optimized for SEO with fast load times and high-performance scores out of the box. No plugins or technical knowledge is needed.

A clean, modern-looking website without having to try and design it yourself. You can just focus on adding content.

Because JetPage is made for blogs for content and affiliate marketing, features are geared toward making your blog the best it can be.

Automatically collect email subscribers from day 1, no additional software or plugins are needed.

No need to update your site, or spend additional money on better hosting, or security plugins.

Optimized for mobile from Day 1
Cons:
Limited customization options due to prioritizing technical SEO and accessibility in design

E-commerce features unavailable. Currently focused on blogging, affiliate marketing, and SEO only.

Doesn't have WordPress' plugin library with thousands of plugins available (but working on replacing the top plugins as native features with much less security vulnerabilities)

Higher monthly subscription fee (but comparable to premium managed WordPress hosting from WPengine, Kinsta, etc.)
Who is JetPage for?
JetPage is almost exclusively focused on blogging, affiliate marketing, and SEO.
Due to this narrow focus, the current product may be too limited for other use cases like E-commerce.
On the other hand, focusing on very specific use cases for JetPage has allowed us to hone in on making the absolute best product for bloggers, affiliate marketers, and SEO specialists.
Blogging and getting organic SEO results can be surprisingly complex even in this day and age, and we want to make a platform that makes your job easier and more efficient.
That means wasting less time on boring, repetitive tasks like optimization and maintenance.
In contrast to WordPress, JetPage aims to be 10x better in the combined areas of simplicity, performance, security, and zero maintenance.
Our customers have reported that the limitations in features is a very fair tradeoff after they have experienced the zen-like, worry-free workflow that JetPage offers.
Simplicity, Ease of Use, and Learning Curve
Because JetPage was built upon 10 years of first-hand experience helping over 7,000+ beginners setup their first WordPress website, one of the biggest priorities we wanted to tackle is simplicity.
When you interact with thousands of non-technical beginners when trying to teach WordPress, you end up picking up on a ton of pain points that you wouldn't expect as a technical expert.
Much to our surprise, we noticed a high number of beginners complain about the "technical learning curve" and how they were confused about even the smallest things like "Posts" vs "Pages".
Over time, we also got tired of looking at the WordPress dashboard with a constantly growing number of sidebar menu items, along with constant error messages and endless pop-ups asking to review each and every plugin installed.
So our goal was to start completely from scratch to create a minimalist dashboard that is so intuitive and user-friendly that you won't need to be watching hours worth of tutorials in order to learn how to manage and edit your website.
Instead of making our customers watch hours upon hours worth of YouTube tutorials, we wanted to solve the technical learning curve at the product level.
That meant making things super obvious and intuitive and eating a lot of the more technical complexity in the backend, away from our customer's eyes.
We're happy to report that customers frequently mention JetPage's simplicity and ease of use in their reviews.
Although we have achieved our initial goal according to our customers, we believe that maintaining simplicity as we add more and more features each week is going to be a moving goal post in the future.
That is why we remain vigilant on our product design, and constantly listen to user feedback to make sure we stay on the right path. You can read more in-depth about all the features and benefits of JetPage HERE!
Performance, Load times, Design, and Accessibility
Over the past few years, Google has made website performance, specifically load times and core web vitals a much more important part of their ranking algorithm. In July of 2021, they began rolling out their latest update that put even more emphasis on performance.
Most people don't even realize their site isn't up to 2022 standards. (Check how your site measures up HERE). In order to get your WordPress site up to these standards, you'll need to pay for image compression plugins, figure out how to fix your sitemap, manually add an SSL, along with other security plugins. Plus the way JetPage is built means that you'll have under 1 second instead of closer to 8 seconds. (the average load time for most sites according to Google)
Load times directly affect how many customers decide to actually look at your site after clicking on it. According to Google:
One of the other huge drawbacks of WordPress is the months it takes to build your website. Unless you are a web designer you're far more likely to make your website slow with your design and layout. You can easily make small mistakes that lead to lower conversion rates. JetPage takes care of design best practices and all the technical issues, so you can focus on creating content.
Customer experience and technical support
WordPress is the huge giant that powers 40% of the web, but due to being open-source, you'll find hands-on customer support lacking in favor of having to search on Google and forums for answers. Many of the web hosting companies that power WordPress sites care about helping you just enough to keep your website up and running, but not necessarily about your site's SEO results or success.
On the other hand, with JetPage's much smaller customer base, your voice is more likely to be heard. You can use our live-chat support or email to make specific feature requests and have a product that grows and changes in ways that you've always wanted.
Here at JetPage, we believe in the "Jobs to Be Done" framework, and try to design our product for maximum efficiency.
In other words, we're just as focused as our customers are on pure results, and the most frictionless experience possible to get the most output from the least input.
By trying to also make an extremely user-friendly interface, this has also helped us to cut down drastically in time wasted doing technical support.
Our goal was to solve technical support problems at the product level so users could focus more on business activities like creating content, distribution, and getting SEO results, as opposed to web design, optimizing performance, and plugin maintenance/updates.
For years high performance and great technical SEO was only accessible to companies that could afford to spend thousands on professional developer resources. JetPage aims to level the playing field.
One more analogy that we are inspired by is Tesla vehicles. Since Tesla cars have a strong software-heavy focus, you may have heard about the Over-The-Air (OTA) updates they receive frequently. These updates can do everything from adding popular apps like Netflix and games to Tesla's media computer, or even adding horsepower from a battery optimization.
At JetPage, we love the idea of constantly improving and updating the product even while you sleep! For example we recently upgraded all our customers sites with an advanced image compression software. You can read more about our latest updates HERE!
Price and Value Comparison
You can start building a self-hosted WordPress website for around $5/month, whereas JetPage starts at around $25/month.
But if you want your WordPress website to look good and completely optimized to have a better chance of ranking on Google, then you'll likely need to spend much more than $5/month.
First, you'll need to switch to cloud hosting, which will typically start around $30/month with companies like Kinsta and WPengine. JetPage comes with AWS cloud hosting which according to this case study allows you to rank higher than typical cheap shared hosting.
Cheap shared hosting is what the majority of self-hosted WordPress websites run on, and there is a price that you pay later for saving some dollars in the beginning.
The unexpected costs from self-hosted WordPress sites will come from premium plugins, premium themes, and constant upsells that web hosting companies try to tack on when you sign up.
First, the "cheap" shared hosting companies usually require at least a 1-year to 3-year commitment. Then they add a bunch of unnecessary "add-ons" that can quickly bring the total monthly cost closer to $15-20/month.
At JetPage, we have a different approach to pricing. We believe mostly everything should be included with all-in-one inclusive pricing. No hidden fees, no upsells, just simple clear pricing by number of websites and monthly views.
Also, JetPage offers month-to-month pricing you can cancel anytime instead of requiring 1-3 years upfront. If you do decide to do a longer annual commitment, we offer discounts of 2 months free with any plan.
Lastly, JetPage is focused much more on VALUE as opposed to being the absolute cheapest product possible.
By focusing on value and charging slightly more, we can sustainably reinvest into further R&D and customer support to continuously improve the product even further!
We could have gone the cheap route and try to get as many customers as possible by offering a freemium product, but we've seen how that works for other companies and decided to choose quality over quantity.
Conclusion
In conclusion, both WordPress and JetPage have their benefits and drawbacks. The one you choose will depend on your specific use case, budget, and technical ability.
Just to reiterate one last time, JetPage is a product designed after helping over 7,000+ beginners build their first WordPress website. We aim to solve many of the pain points and issues that plague beginners struggling with WordPress.
If you are a blogger, affiliate marketer, or SEO specialist: Now you can just focus on writing and getting results, without your website holding you back.
No more maintenance, technical SEO, web design, or watching 3 hour-long YouTube tutorials.
Want to see for yourself? You can get a free 14-day trial HERE (no credit card required)!
---
Related Posts

JetPage vs Webflow: What's the best website builder for you?

JetPage vs Wix: Which website builder should you choose?
JetPage vs Ghost: What's the best blogging platform?
Jetpage vs Squarespace: What's the best website builder for SEO?