Why JetPage is the Best Website Builder for Blogging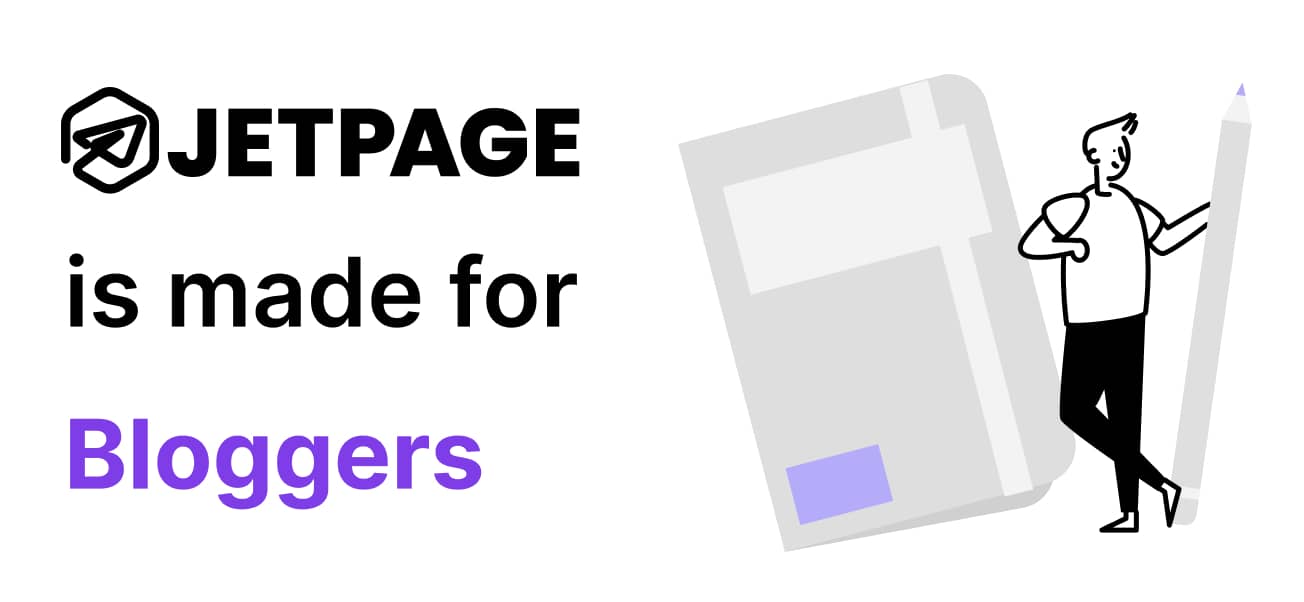 JetPage is made for bloggers, by bloggers
Most website builders add the ability to blog as an afterthought. Outside of the basic features, you're left on your own. At JetPage, we've personally been blogging and using content marketing for over a decade, and we deeply understand the pains, problems, and challenges that all bloggers face.
We're committed to building a product that allows you to do the thing you love: blogging!
Without having to waste any time on web design, performance, technical SEO, security, and maintenance.
According to Google, you should be focusing on content anyways! The head of SEO for Google John Mueller states that it's "hard to call a site authoritative after 30 articles."
The faster you can get to having 50+ articles, the sooner your blogging website can be seen as an authoritative site by Google. That means you don't have time to waste on dealing with all the complicated technical SEO, security, and maintenance needs of a high-performance blog.
You need a blogging platform that can handle everything else, and give you the tools to create content as fast as possible.
The growing importance of blogging in 2022
With the rapidly rising cost of paid ads, and an MIT study that shows that targeting on paid ads (ie. gender, age, etc) is wrong more than half the time, organic traffic is more important than ever.
Organic traffic is free and provides people who are actively searching for what you're writing about. It's no wonder that the most successful Bloggers earning over $50,000 per year tend to put a lot of emphasis on SEO. Their #1 traffic source is typically Google organic search (GrowthBadger).
When you simply rely on social media algorithms, you're at risk of any small algorithm update destroying your entire business overnight. Even your subscribers on YouTube might not always see a new video you post. With a blog, you get to OWN the platform and simply use your social media to help grow it.
It's not just individuals focusing on blogging either. According to Hubspot, companies that blog get 55% more web traffic. And 64% of marketers report successfully using content marketing to generate sales and revenue (Content Marketing Institute).
How JetPage helps you reach your blogging goals
JetPage is specifically built for SEO to help you rank higher on Google
We know how important SEO is when it comes to succeeding with blogging. 71% of bloggers say SEO is the most important source of traffic (Orbit Media). We've also seen the SEO "tools" that other sites claim to have, which is usually limited to just being able to edit the meta title and description.
They leave you on your own to take care of the technical SEO and performance aspects that have a huge impact on Google ranking. Especially after Google's brand new update in 2022 that adds performance as a key ranking factor.
It's hard enough to research and write great content. You shouldn't also have to become an IT professional, web designer, and web developer just to compete.
Google's new update has added a category of stats called "Core Web Vitals". According to Ahrefs, only 33% of sites are currently passing Core Web Vitals. This isn't surprising given how difficult it is to optimize your site!
It took us months of research and development to figure out how to generate a site that would consistently provide amazing performance and be optimized for technical SEO, out-of-the-box.
You can see the impact performance has on SEO from this in-depth case study. It shows the huge difference in ranking when you use AWS cloud hosting (the same hosting JetPage customers use) instead of typical cheap, shared hosting.
According to Google, your page load time doesn't just affect their new ranking algorithm, it also affects how likely a visitor will bounce from your website without even visiting a second page.
Sadly according to a massive study by backlink.io, the average desktop load time is 10.4 seconds! And the average mobile load time is a whopping 27.4 seconds!
With JetPage, we're seeing (on average) one-second load times thanks to the optimizations built into the platform - right out of the box.
If you want to check how your site is performing, you can use a free tool like GT-Metrix and see how your website stacks up!
Our brand new advanced image compression, doesn't make you compromise between performance and design
Images make websites much larger in size and make pages take much longer to load. Often times people recommend removing photos to try and pass Google Core Web Vitals. But we know that as a blogger, you need photos on your website.
So we created an advanced image compression tool that resizes, compresses, and converts your images to Web-P (a next-gen file type made by Google).
We worked on this feature for months and are SO happy with the results: Up to 97% reduction in image file sizes or MORE.
There are premium services and WordPress plugins that are charging up to $20 USD per month for image resizing and compression. We are including it in EVERY JetPage customer account for FREE!
When you copy and paste your blog post from Google Docs, we'll automatically download, compress, and convert all your images without you having to lift a finger.
No more wasting time on Web Design and Web Development!
How many times have you spent hours on a drag-and-drop builder trying to make your website look nice, only to hit the Publish button and be disappointed? Or maybe you looked through thousands of templates, only to wonder why your site doesn't look anything like what the template preview looks like. We've been there.
Maybe you even found a theme you like, but then realized after testing your website, that that heavy, bloated theme was negatively affecting your site's performance, load times, and Google Lighthouse scores.
After studying hundreds of the best-performing blogs on the internet, we designed a modern, professional, yet functional blog design that will make your writing look like a million-dollar brand from the start!
We even added a clickable table of contents that you can easily add to any page simply by turing on a toggle. It will automatically create it and place in a minimal design on the right side of your blog, just like top blogs have.
Easily copy and paste your articles from Google Docs and maintain the formatting
Google Docs is one of the most popular tools to write blogs with. So we optimized our text editor so that you can easily copy and paste your entire article in without losing formatting! You shouldn't have to keep learning new text editors to write in and have to reformat every time you copy over. You should be able to write with the tools you're most comfortable with.
We talk to our most successful bloggers to figure out what their processes are, so we can pass that knowledge onto you! Publishing content as frequently as possible (2-3 articles per week) is incredibly important, and we're focused on removing every roadblock that's in your way.
Easily monetize your blog with affiliate marketing, ad revenue from Google Adsense, and more
Making money with your blog can seem confusing, or you might not even know where to start. So we make it easier with tons of features for affiliate marketing, and integrations with ad revenue networks like Google AdSense (Ezoic and Mediavine on the way).
We also make it easy for you to add a Facebook Pixel, and Google Tag Manager so you can use retargeting ads to bring back visitors. You can also get Google Analytics set up in just a few minutes so you can get advanced data on where your visitors are coming from.
We're constantly looking and researching what successful blogs do, so we can pass that knowledge onto your website with new features and guides.
Start collecting email subscribers from Day 1 (and integrate your favorite email marketing software)
Over 56% of bloggers making over $50,000 a year say that email is way more important now than it was a year or two ago. While 70% say that social media is about the same or less important than it was a year ago. (Growth Badger)
Building an email list allows you to own your audience, and get them to come back to your website again and again. That's why with JetPage we provide you with an email sign-up form from day 1. Even if you don't have an email marketing software yet you can still collect emails!
You can easily then upload that list to any email marketing provider, or use one of our integrations. Use an email service we don't have an integration for yet? Just let us know, we're always adding new features!
Peace of mind with SSL security, and no plugins to update or get hacked
Having an SSL certificate (the lock symbol next to your website name in the browser bar) is crucial not only for security but so visitors can trust your site. Ever visited a site that said "Not Secure" and gave a warning? Don't let that be you.
With JetPage, there's no SSL set up or force HTTPS needed, your SSL is automatically activated the moment you get your website!
According to an examination of over 11,000 hacked sites 78% of observed hacks occurred on WordPress and 56% of those are a result of vulnerabilities in outdated WordPress plugins.
Because we build our features natively, there are no plugins to have to update, and no need to hire anyone to do maintenance on your website because we handle all of it for you!
Millions of WordPress sites get hacked quite often, so we set out to create a platform with an emphasis on security and avoiding many of the pitfalls like dependency on outdated plugins.
For added security, you should register your account by logging in with Gmail, and making sure you have 2 Factor Authentication on your Gmail account.
World-class support
For many website builders, any kind of support is a premium feature you have to pay extra for. So you're left spending hours and hours watching Youtube tutorials or searching up forums for answers. We provide email and live chat support to all our paid customers!
We're constantly talking to customers to figure out how we can keep making JetPage the perfect solution for bloggers, and we have some amazing new features that we're testing right now thanks to real-time input and feedback from users!
Conclusion
If JetPage sounds like the right choice to build your next website with, you can sign up for a free 14-day trial here (no credit card required)! Or learn more about why JetPage is perfect for you.
We are constantly working on the JetPage platform and are always open to feedback and feature requests.
Please feel free to reach out to us via our Facebook Group, Twitter, or the Live Chat support :)
---
Related Posts

Why JetPage is the Best Website Builder for SEO
Why JetPage is the Best Website Builder for Affiliate Marketing