Why JetPage is the Best Website Builder for Affiliate Marketing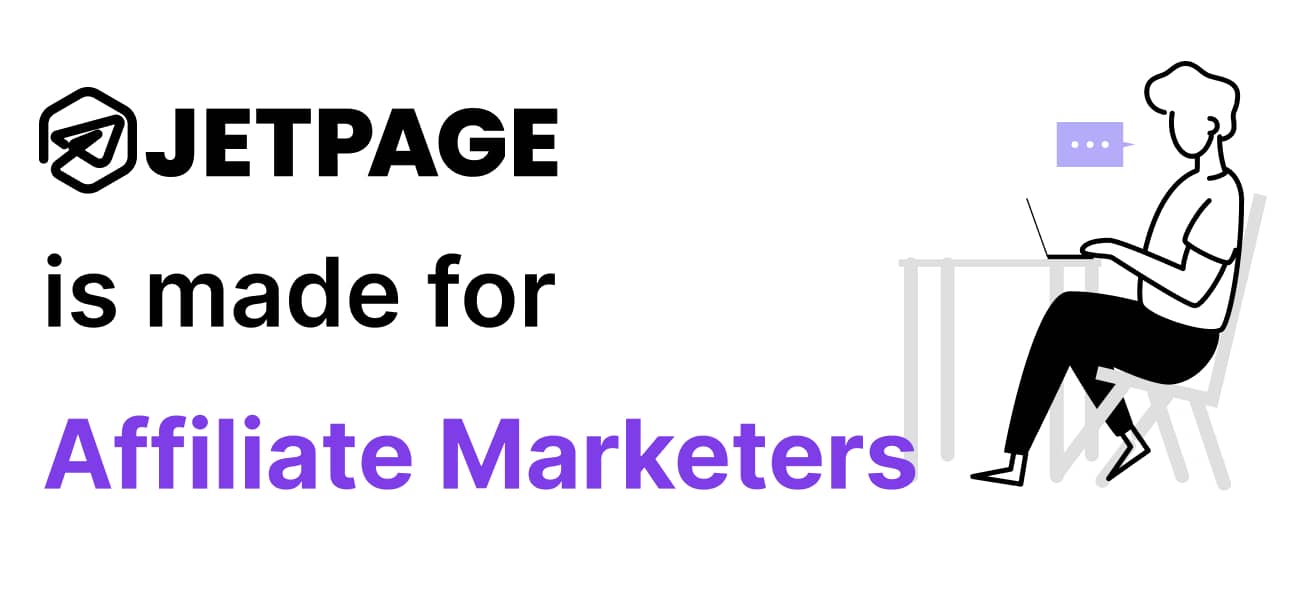 The state of Affiliate Marketing in 2022
With affiliate marketing expected to grow to an $8.2 Billion industry in 2022 (Statista.com), it's a great time to start or grow your current affiliate business. But with the rapidly rising cost of paid ads, and an MIT study that shows that targeting on paid ads (ie. gender, age, etc) is wrong more than half the time, organic traffic is more important than ever.
We know how competitive it is to try and rank and gain a foothold with SEO, and we want to give you every advantage you can have as an Affiliate Marketer to stand out from the competition. You should be able to focus on creating amazing content that sells. Instead of having to focus on constantly updating and improving your website to keep up with Google and competitors.
Do you really need a website to do affiliate marketing?
While some people might think in 2022 you could get away with just using social media or just a simple landing page, the truth is that a website has never been more important!
The most basic reason is that you need a website for affiliate marketing in order to be approved by most affiliate programs, and your website has to look modern and professional. Simply put, when the affiliate programs ask for your website URL, and all you have is a social media account, they will reject and deny your application to join.
Having a website is also how you will get organic SEO traffic. SEO is the best type of traffic because it's free and it's people who are actively searching for the product or service you are writing about.
One of the biggest advantages of having your own website is that you can also start to build an email subscriber list. Unlike your audience on social media which is owned by the platform, an email subscriber list is your direct channel of communication to potential customers and leads. You can make sure your new content and offers are getting seen, regardless of "the algorithm" on social media that changes all the time.
The best use of email marketing is to create an auto-responder sequence like offering a free guide, that will automatically build rapport and sell your subscribers on the products or services you are promoting.
A website also lets you get valuable data from visitors to see how effective your various blog posts and website pages are at converting people to your offers. Connecting your website to Google Analytics (or alternatives like Plausible) allows you to see exactly where traffic is coming from so you can double-down on what's working.
Placing retargeting through Facebook Pixel or Google Tag Manager on your website will allow you to run retargeting ads on people who have already visited your website. Retargeting ads have far higher conversion rates than regular digital ads since they're only being shown to people who have already interacted with your website.
How a JetPage website helps you succeed with affiliate marketing
We created JetPage after years of experience with affiliate marketing, and are committed to building features that make your life easier! Too many times we had ideas for affiliate sites but it took forever just to get set up with WordPress, and we found ourselves using tons of plugins and software just to accomplish a simple goal. We were spending all our time on maintenance and fixing problems instead of actually writing.
The truth in affiliate marketing is that if you want to get high rankings for reviews, you need to be considered "authoritative" by Google.
So how many articles do you need to have to be authoritative? According to the head of SEO for Google John Mueller, "hard to call a site authoritative after 30 articles."
The faster you can get to having 50+ articles the sooner you can be seen as an authoritative site by Google. That means you don't have time to waste on dealing with all the complicated technical SEO, security, and maintenance needs of high performing blog.
You need a blogging platform that can handle everything else, and give you the tools to create content as fast as possible. So we decided to make a new website platform that allows you to skip all the technical nonsense and get straight to creating content that sells.
Click here to see how a JetPage customer took his affiliate website, using only SEO, no paid traffic, and no huge social media following from zero to $3,000 a month in affiliate earnings!
You can generate a new affiliate website for your next niche in seconds!
Whether you're just getting started, or looking to expand to a new niche, you can generate a completely new site in seconds with JetPage. We want you to be able to focus on researching, reviewing, and creating content so you can get more affiliate commissions.
On a complicated platform like WordPress, you have to manually learn how to become a web designer, web developer, and SEO specialist just to create a simple, optimized affiliate website. With JetPage, you can simply just pick your color scheme, add a logo, name your site, and start writing content!
One of the best parts about JetPage vs WordPress is there's no maintenance! No more constantly updating plugins, themes, and WordPress core. No more WordPress notifications that an outdated plugin is crashing your entire site. JetPage sites simply work out-of-the-box, and are automatically updated and improved weekly without you having to do any work. We are inspired by products like Tesla cars that receive over-the-air updates which improve the product constantly all the time.
Increase your odds of getting approved for affiliate programs and networks with a professional website design done for you
Think about this: If you ran an affiliate program or network, you would want to make sure you're only approving high-quality affiliates who won't damage your brand's reputation with spammy low-quality websites. A poorly-designed website can severely hurt your chances of being approved for the top affiliate programs and networks.
With JetPage there's no need to spend thousands of dollars on a freelancer or web designer or spend days trying to make your website look the way the template preview suggested. We studied the most successful blogs and high-performance affiliate websites to give you a website design with a modern, minimalist look that will let your content shine. Plus, meet all of Google's performance and accessibility standards.
Start collecting email subscribers with your website from Day 1
According to Growth Badger, bloggers who earn over $50,000 a year are twice as likely to focus on email than low-income bloggers. We know how important email marketing is as an affiliate marketer, so from Day 1, you can start collecting email subscribers, even if you don't have any email marketing software yet!
We provide a built-in email "Subscribe" button so visitors can easily subscribe to your email list! You can either use one of our email marketing integrations like ActiveCampaign to send those emails to, or simply download your subscribers as a CSV file to upload to ANY email marketing software or service provider.
Easily link your social media to help get more exposure and reach
No matter what social media channels you use, you can easily add your links to your top menu and author box. This will help you build up a following on social media and help visitors interact with you wherever they're most active! If you use Pinterest for business you can easily verify your JetPage website without having to hunt around in your website's codebase.
Stop losing traffic and sales to competitors due to complicated technical SEO problems
Technical SEO and performance are often overlooked by people because it can be endlessly complicated, expensive, and time-consuming. That's why JetPage takes care of ALL of that for you!
We're committed to giving you best-in-class site performance because we know how important it is to SEO. With Google's huge new update in 2022, website performance has never been more important if you want to outrank millions of competitors.
Google's new update has added a category of stats called "Core Web Vitals". According to Ahrefs, only 33% of sites are currently passing Core Web Vitals. This isn't surprising given how difficult it is to optimize your site!
It took us months of research and development to figure out how to generate a site that would consistently provide amazing performance and be optimized for technical SEO, out-of-the-box.
You can see the impact performance has on SEO from this in-depth case study. It shows the huge difference in ranking when you use AWS cloud hosting (the same hosting JetPage customers use) instead of typical cheap, shared hosting.
According to Google, your page load time doesn't just affect their new ranking algorithm, it also affects how likely a visitor will bounce from your website without even visiting a second page.
Sadly according to a massive study by backlink.io the average desktop load time is 10.4 seconds! And the average mobile load time is a whopping 27.4 seconds!
With JetPage, we're seeing (on average) one-second load times thanks to the optimizations built into the platform - right out of the box.
You can learn more about all the features we've added to improve your SEO here! Or if you want to check how your site is performing, you can use a free tool like GT-Metrix and see how your website stacks up!
Advanced image compression and conversion
Images make websites much larger in size and make pages take much longer to load. Often times people recommend removing photos to try and pass Google Core Web Vitals. But we know that as an affiliate marketer, you need product photos.
So we created an advanced image compression tool that resizes, compresses, and converts your images to Web-P (a next-gen file type made by Google).
We worked on this feature for months and are SO happy with the results: Up to 97% reduction in image file sizes or MORE.
There are premium services and WordPress plugins that are charging up to $20 USD per month for image resizing and compression. We are including it in EVERY JetPage customer account for FREE!
When you copy and paste your blog post from Google Docs, we'll automatically download, compress, and convert all your images without you having to lift a finger.
Simple Amazon Associates Embed
Amazon Associates is one of the best affiliate programs for beginners, but to use product listings and photos from Amazon, you'll need to embed it using HTML code.
With JetPage, we optimized our HTML embed feature to work with Amazon Associates so you can simply copy and paste in your code and it will work smoothly.
Easily add Google Analytics, Facebook Pixel, and Google Tag Manager
Retargeting with Facebook Pixel and Google Tag Manager
According to PR Newswire, retargeting beats all other ad placement strategies with a 1,046% efficiency rate. In order to take advantage of retargeting, you'll need to add a Facebook Pixel and/or Google Tag Manager code snippet to your website.
Adding this code can be confusing and force you to spend hours digging around your website just to locate it.
With JetPage, we've made a "Marketing" tab where you simply click the Facebook Pixel or Google Tag Manager button and paste the code in. Even if you're not a web developer, you can get retargeting added in just minutes!
Seeing where your visitors are coming from with Google Analytics
Enabling Google Analytics will allow you to see what traffic sources (like organic SEO, social media, or paid ads) are generating the most traffic for your website. With JetPage, it's a simple copy and paste of your Google Analytics code and your site is connected in minutes.
Easily add an affiliate disclaimer to all your posts
Constantly having to write an affiliate disclaimer for every one of your posts, slows you down from writing the actual content. So with JetPage all you have to do is hit a switch to turn on an affiliate disclaimer that will appear on the sidebar of your post.
This means you are making sure to have your disclaimer at the top of every post, which is required by the FTC, while also not pushing your first paragraph further down the page.
We even include a default affiliate disclaimer, that you can use or you can create a custom one!
You can also add a Footer menu linking your Privacy Policy and Terms of Service. (Need help crafting these documents? Check out Termly!)
Peace of mind with SSL security, and no plugins to update or get hacked
Having an SSL certificate (the lock symbol next to your website name in the browser bar) is crucial not only for security but so visitors can trust your site. Ever visited a site that said "Not Secure" and gave a warning? Don't let that be you.
With JetPage, there's no SSL set up or force HTTPS needed, your SSL is automatically activated the moment you get your website!
According to an examination of over 11,000 hacked sites 78% of observed hacks occurred on WordPress and 56% of those are a result of vulnerabilities in outdated WordPress plugins.
Because we build our features natively, there no plugins to have to update, and no need to hire anyone to do maintenance on your website because we handle all of it for you!
Millions of WordPress sites get hacked quite often, so we set out to create a platform with an emphasis on security and avoiding many of the pitfalls like dependency on outdated plugins.
For added security, you should register your account by logging in with Gmail, and making sure you have 2 Factor Authentication on your Gmail account.
World-class support
For many website builders, any kind of support is a premium feature you have to pay extra for. So you're left spending hours and hours watching Youtube tutorials or searching up forums for answers. We provide email and live chat support to all our paid customers!
We're constantly talking to customers to figure out how we can keep making JetPage the perfect solution for affiliate marketers, and we have some amazing new features that we're testing right now thanks to real-time input and feedback from users!
The JetPage.co official affiliate program
Since we love affiliate marketing so much, we have our very own affiliate program as well! We're constantly trying to find more ways to help our affiliates, and are always here to help you. You can sign up for our affiliate program here and earn up to $50 per customer you refer.
If JetPage sounds like the right choice to build your next website with, you can sign up for a free 14-day trial here (no credit card required)! Or learn more about why JetPage is perfect for you.
We are constantly working on the JetPage platform and are always open to feedback and feature requests.
Please feel free to reach out to us via our Facebook Group, Twitter, or the Live Chat support :)
---
Related Posts
Why JetPage is the Best Website Builder for SEO
Why JetPage is the Best Website Builder for Blogging

JetPage vs WordPress: Best Website Builder for SEO, blogging, and affiliate marketing?