Why JetPage is the Best Website Builder for SEO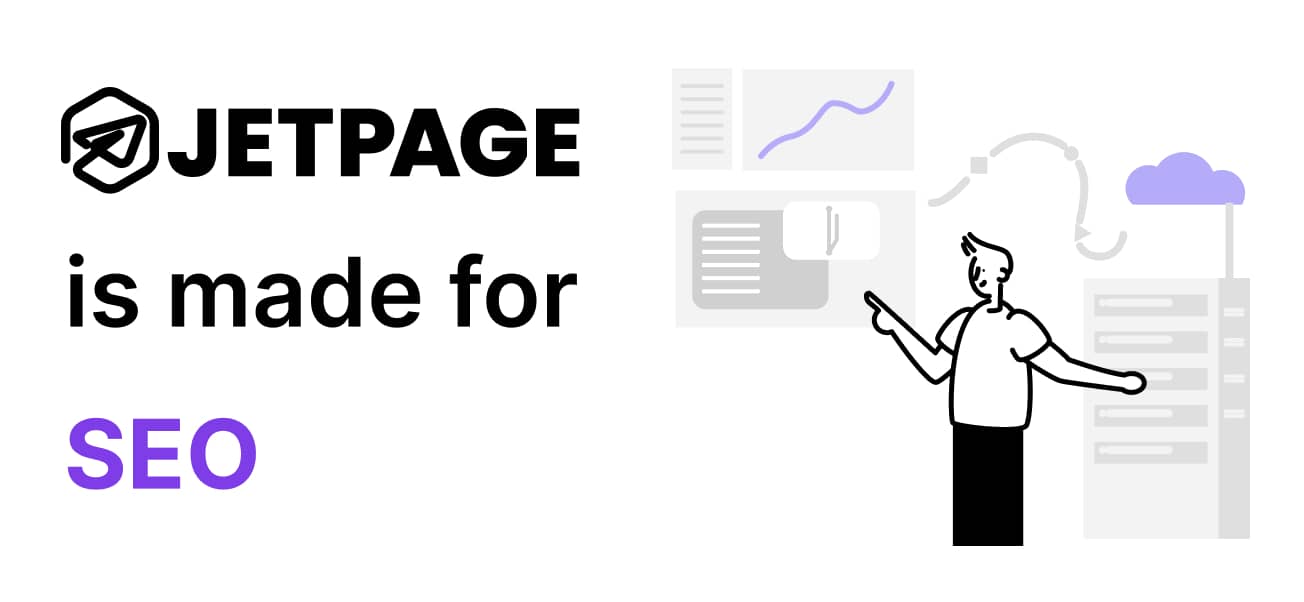 Mastering SEO (Search Engine Optimization) is the most important skill you can master for your blog or website. It's free traffic unlike paid ads, and it's made up of people actively looking for something you're talking about! These are the best potential customers and readers you will find.
Don't believe me? The numbers back it up: 71% of bloggers say SEO is the most important source of traffic (Orbit Media). For bloggers who earn over $50,000 per year, their number 1 traffic source is Google organic search. And companies are putting their money where their mouth is. According to Moz, the majority of businesses spend over $5,000 a month on SEO!
If you don't have a large budget, the good news is that JetPage can help you dominate SEO for a lot less than $5,000 a month. A lot of other website builders claim they have "SEO tools" or are "SEO-optimized"...
But typically they just offer the ability to edit your meta title and description (that's the preview you see on Google). JetPage can do that as well, but that's just the start. The truth is, getting actual SEO results takes a lot more than tweaking your meta title and description. So let's demystify SEO and break it down for you in this article.
When it comes down to it, Google wants to show the highest quality and most relevant content to any person who is using Google search. It's incredibly hard for a robot to figure out how good the quality of an article is. So Google relies on a number of signals that are easier to measure and quantify. These include: website performance, technical SEO, on-page keyword SEO, accessibility, backlinks, structured HTML data, sitemap, and much more.
So let's break down SEO further into 4 main areas to focus on:
Website Performance / Technical SEO

Proper Keyword Research

Building an Audience with Email and Engagement Metrics

Creating SEO Content

Distribution and Backlinks
SEO Key #1: Website Performance / Technical SEO
Not that long ago, people didn't pay too much attention to things like website load times, security, web hosting, or being 100% mobile-responsive. There wasn't as much competition, especially in more specific, small niches. People would game the algorithm with black hat SEO tactics like keyword stuffing and PBNs.
As competition skyrocketed and Google's algorithm got much smarter, technical SEO, website performance, and really good content started to be incredibly important for SEO. As time goes on, Google's algorithm wants to ensure your website visitors have a great, accessible user experience (UX), stay for long durations on your website and become return visitors (engagement metrics). In addition, Google added website performance as a key ranking factor in 2022 with a focus on "Core Web Vitals". Simply put, Google wants to reward faster and more enjoyable website experiences because more searches means more ad revenue for the company.
How your choice of Web Hosting makes a massive difference in your Google ranking
One indicator of just how much performance can impact your Google ranking comes from a great case study by Reboot Online. The experiment focuses on the difference in Google ranking when they switched from shared hosting (what most WordPress websites run on) to premium Amazon Web Services (AWS) cloud hosting, and vice versa.
Cheap shared hosting is typically what companies sell when they tell you it costs less than $5 per month for a website. On the other hand, cloud hosting from AWS is what companies like Twitter and NASA use, and the same hosting that every single JetPage customer's site is built on.
Check out their findings below, where they found that the faster AWS cloud hosting had a massive impact on ranking. To make the experiment fair, they even switched the AWS cloud hosted websites back to shared hosting and their rankings plummeted.
How page load times affect how many views you get
Along with overall ranking, how fast your site loads has a direct correlation to the likelihood a visitor stays on your website and visits multiple pages. According to Google, the probability of bounce (when a customer leaves without viewing a 2nd page) increases by 106% going from 1 second load time to 6 seconds.
The BBC found they lost 10% of users for every additional second their site took to load. And according to Adobe, more than half of consumers will stop what they are doing if they encounter issues when viewing content.
When it comes to mobile, Shopify found that 64% of mobile users expect a website to load in 4 seconds or less.
Unfortunately, most sites don't come anywhere close to ideal load times. In fact, according to a massive study by backlink.io, the average desktop load time is 10.4 seconds! And the average mobile load time is a whopping 27.4 seconds!
At JetPage, we aim to get all of our customer sites under 1 second load time right out of the box, and strive to maintain that performance over time.
Of course, it is up to the customer to keep their website fast by limiting how much media they use (like YouTube videos which drastically slow down your load times by about ~3 seconds in our findings), but we are always working on improving regardless.
How JetPage is dramatically improving page speed on image-heavy pages.
At JetPage were constantly looking for ways to improve your site performance and SEO. So you will get updates and new features so your site will always be one step ahead of your competition. Our latest update is advanced image compression!
Images make websites much larger in size and make pages take much longer to load. Often times people recommend removing photos to try and pass Google Core Web Vitals. But we know that as an affiliate marketer, you need product photos.
So we created an advanced image compression tool that resizes, compresses, and converts your images to Web-P (a next-gen file type made by Google).
We worked on this feature for months and are SO happy with the results: Up to 97% reduction in image file sizes or MORE.
There are premium services and WordPress plugins that are charging up to $20 USD per month for image resizing and compression. We are including it in EVERY JetPage customer account for FREE!
When you copy and paste your blog post from Google Docs, we'll automatically download, compress, and convert all your images without you having to lift a finger.
You can see this feature in action here!
Why Google's 2022 Page Experience update matters for SEO.
Google's new ranking algorithm introduced stats called "Core Web Vitals", or CWV. It's a collection of website performance measurements. A study by Ahrefs found that only 33% of desktop sites are passing Core Web Vitals.*
*It's hard to get good data on how many mobile versions of sites pass CWV, because the tool Google uses to measure CWV on mobile uses a throttled 3G network. This is an incredibly slow connection you would find in more remote or undeveloped places. And according to Ahrefs, "the LCP (Fully loaded time) threshold seems almost impossible to pass on slower connections."
This is no surprise when you look at what goes into trying to pass these Core Web Vitals. According to web performance company Huckabuy:
"It should be noted that improving your Core Web Vitals requires technical chops. If you are not a developer yourself, consider assigning responsibility for these scores to a developer on your team, outsourcing the work to SEO experts, or using software designed to improve these metrics"
At JetPage, we don't believe you should have to spend thousands of dollars on freelancers or hiring web developers. Or spend months trying in vain to improve a website that's stuck on a bulky, bloated website builder. Instead, you need to be focusing on cranking out content, getting email subscribers, and conversions.
So we built a solution from the ground up using the latest technology and best practices to handle all the boring technical stuff for you. You can make fast, SEO-optimized blog posts without worrying about performance issues holding you back from competing with the bigger companies.
Because of the importance of website performance when it comes to SEO, even if you create amazing content you'll be pouring water into a leaky bucket. Getting a solid foundation is vital to growing your audience with SEO.
The importance of load times and Core Web Vitals will only increase as web visitors will have higher and higher standards, and as Google continues to factor it in more and more.
If you want to check how your site is performing, you can use a free tool like GT-Metrix and see how your website currently stacks up!
SEO Key #2: Proper Keyword Research
Keyword research is the process of looking up what words, phrases, or questions you should base your content on with regard to traffic volume and interest. These are the search terms you will try and rank for specifically on Google that people are searching up the most. There are tons of helpful videos and software specifically aimed at keyword research alone.
There are free tools like Google Trends or paid software like Ahrefs (our favorite) or SEMrush that start at around $99/month.
Before you even start creating content, you should figure out what keywords exactly you should be targeting. Usually, you would base that on how hard a keyword is to rank on Google for, the approximate amount of searches for that term every month, and how relevant it is to your niche.
We want our users to succeed when it comes to SEO, and we're constantly sharing both our keyword research strategies and what's working for our most successful users! If you need help, our helpful customer success team is always happy to point you in the right direction.
SEO Element #3 Building an Audience
Building an audience for your blog will allow you to start getting new posts ranking faster since you'll have a dedicated list of people waiting for more content from you! So how do you actually build an audience?
The first step is having a professional design that makes you look like a trustworthy brand that visitors trust and want to hear from.
How JetPage helps you look like a million-dollar brand
When people visit a site, they don't want to see a layout that looks like an early 2000s blog. They want something modern and professional that's also easy to read.
We studied literally hundreds of the highest-performing blogs from a variety of niches and industries to come up with a universal design that is proven to work.
With JetPage, you'll get a beautiful, minimalist design like you're reading a blog post from a major publication or one of the big companies. No more scrolling through thousands of themes, only to realize that the preview looks nothing like what you actually get when you finally pick one.
Passing Google's accessibility scores with JetPage
Google wants to make sure that users have a good user experience (UX) on the websites it suggests in the search results. If they kept showing spammy low-quality sites they would lose the trust of consumers. One way Google measures this is with an accessibility score from Google Lighthouse.
This takes into account things like the contrast ratio between text and background (is it readable?). Also, is your site accessible for those with disabilities using things like alt-text for images.
With JetPage, we're focused on fast, accessible websites. You can add alt-text to images that are compatible with screen readers, and our design is optimized to not just look good but also score highly on Google's accessibility requirements.
Get a fully mobile-responsive site out of the box!
57% of all web traffic worldwide in 2022 is mobile according to StatsCounter. If your site doesn't look right on a mobile device, you'll be penalized by Google and lose out on traffic from all those smartphone visitors.
The problem with making your site look good on mobile and desktop can be a headache that takes web design knowledge. That's why we made sure that JetPage sites would be mobile responsive right out of the box, so your site will look great viewed on any device: desktop, tablet, or smartphone.
Get a secure website with SSL and forced HTTPS built-in
One of the biggest warning signs to site visitors is if they see "Not Secure" right next to your domain name. This comes from not having or not installing an SSL certificate.
The problem is, a lot of website builders charge you extra for an SSL certificate or make you pay for a premium plugin to force HTTPS. With JetPage, your free SSL certificate is automatically installed and we force HTTPS for best security practices right from the start.
Link to your social media accounts in seconds
Social media is an amazing tool for both finding a new audience and promoting your blog posts. You can easily choose which of your social media accounts you would like to link. Then visitors will be able to visit them from anywhere on your website!
Collecting emails with JetPage
On social media, you're dependent on their algorithm to notify your subscribers or followers that you posted something. Since the social media platform owns your audience, not you. With email, you own your own audience and can easily reach out to them
That's why with JetPage we provide you with an email sign-up form from day 1. Even if you don't have an email marketing software yet you can still collect emails!
You can easily then upload that list to any email marketing provider, or use one of our integrations. Use an email service we don't have an integration for yet? Just let us know, we're always adding new features!
SEO Key #4: Creating SEO Content
Creating a lot of content is vital for SEO. If you want to be an authoritative site according to Google, you'll most likely need to publish around 30 or more blog posts. According to John Mueller from Google, it's "Hard to call a site authoritative after 30 articles".
So at JetPage, we focus on taking care of all the things that take so much unnecessary time and prevent you from actually doing the thing you set out to do: create content! Once you get your site started with JetPage there's ZERO maintenance and no constant plugin/theme updating. Your site just works. One massive study found that 56% of hacks were from outdated WordPress plugins.
If you want to write 30+ posts you need to focus on keyword research and writing, not web design, web development, and maintenance!
We found that our most successful users were most comfortable writing their blog posts in Google Docs. So we optimized our text editor so you can easily copy and paste from Google Docs without losing your formatting presets. You can learn more about our features to help bloggers be more efficient here.
We're constantly writing and we know how hard it can be, so Jetpage is committed to making it as easy as possible to create content. We have even more features in development right now and we're always getting feedback from customers on how to improve.
Unlike other website builders that leave you alone once you become a customer, we want to see our customers succeed.
SEO Key #5: Distribution and Backlinks
The last element we'll be discussing today is actually marketing the content you spent so long to create! This phase is generally known as "distribution" and also involves getting "backlinks".
Backlinks are do-follow links to your website from other reputable, authoritative websites on the internet.
The more domain authority a website has, the higher weight that backlink will positively affect your website domain's backlink profile.
Essentially you want to spend just as much time promoting your content as you do creating it.
We see a lot of beginners make the mistake of spending all their time to thoroughly research and create their content, only to hit "Publish" and move on to the next article without really allowing each post to grow to its potential.
Some low-hanging fruit for distribution is creating social media accounts on all the platforms and simply sharing your posts there.
Another very effective strategy is guest posting on other similar blogs and organically earning backlinks and exposure for your website.
We can write entire articles on this subject alone, so it's best that you just understand it for now, and that you should spend some of your time and energy on this part of blogging if you want to become successful.
Conclusion
If JetPage sounds like the right choice to build your next website with, you can sign up for a free 14-day trial here (no credit card required)! Or learn more about why JetPage is perfect for you.
We are constantly working on the JetPage platform and are always open to feedback and feature requests.
Please feel free to reach out to us via our Facebook Group, Twitter, or the Live Chat support :)
---
Related Posts

Why JetPage is the Best Website Builder for Affiliate Marketing
Why JetPage is the Best Website Builder for Blogging
JetPage vs WordPress: Best Website Builder for SEO, blogging, and affiliate marketing?