Wizrd.org is now JetPage.co!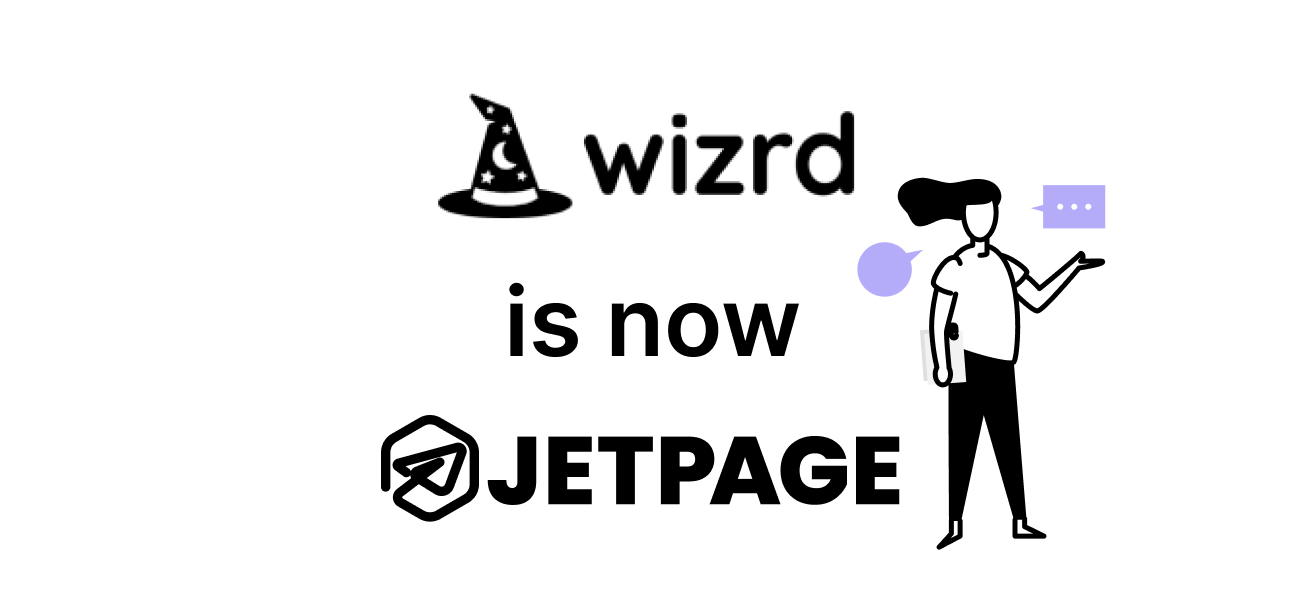 Wizrd.org is officially now JetPage.co!
For the past few months, Wizrd has been in beta and adding new features based on our customer feedback.
As we approach an official launch, we have made the decision to rebrand to "JetPage" to more accurately reflect our long-term goal of being the best website platform for entrepreneurs and small businesses.
Please expect all wizrd.org links to eventually be fully redirected to JetPage.co as we complete the transition.
We're excited to announce that starting today, we are officially transitioning from Wizrd.org to JetPage.co! The product has continued to evolve since we launched Beta, and as we start to grow, we felt we needed a more original name to reflect the platform we're building for the future.
As we approach the end of Beta, we wanted to "start fresh" with a more original brand name we can build and invest in for the long-term.
We hope you understand this tough decision, and apologize for any inconveniences it may cause in the short-term.
What to Expect
Rest assured, the product is 100% going to remain the same (if not better) and we are just redirecting the website/app domains to jetpage.co, and swapping out the logos and social media accounts.

We've made some major upgrades under the hood of our platform, and expanded our team, so you'll start seeing many new exciting features and upgrades coming soon and more frequently (see a list of the latest updates below).

During this transition period the next week or two, there may be some slight hiccups. Please reach out to support if you experience any issues - we'll get them fixed ASAP.
Newest Features live now
We have successfully added our first email marketing integration with ActiveCampaign! Visit the "Marketing" tab to easily connect your AC account and choose the list you want your email subscribers to automatically be sent to from your JetPage website.

Our next planned email integrations: Aweber, ConvertKit, and GetResponse.

We also have added the ability to customize your "Subscribe" button! So now you can change the button shape, button text, customize the subscribe pop-up box, and even add an external link when visitors click the button. (Go to "Edit Site" > Action button to try this out.)

Beta version of Google Adsense is now in the "Marketing" tab! We are still working on this but have confirmed that "Auto Ads" is working and JetPage sites can get successfully approved for Adsense.

Pinterest domain verification available in "Marketing" tab.

These new features are just the start and we can't wait for you to meet the new JetPage and see what kind of exciting upgrades we have coming in the near future.

If you have any questions, feedback, or feature requests, we're always here to chat and help you out! Thank you all for your patience and joining us on our journey in Beta.
Thank you for your continued support :)
- JetPage team
---
Related Posts

Why JetPage is the Best Website Builder for SEO
Why JetPage is the Best Website Builder for Affiliate Marketing